History
Community Services Fund of Nebraska is a nonprofit federation. It was founded in Lincoln, Neb., in 1981 by four non-profit agencies that wanted to conduct worksite fundraising campaigns but were not included in traditional community campaigns.
Community Services Fund participates with United Way and Combined Health Agencies Drive (CHAD) in workplace giving campaigns and conducts individual workplace campaigns. With a donor-directed system, Community Services Fund ensures that contributions support member agencies as designated, rather than by predetermined allocation levels.
When you review the list of Community Services Fund agencies, you may find that more than one has played a part in your life.
Community Services Fund recognizes that it is your campaign, your check and your choice.
Since its inception, the goals of Community Services Fund have been:
To strengthen the fundraising capacity of its nonprofit member agencies by conducting workplace-giving campaigns.
To provide more choices in giving to individual donors.
 
Who Are We?
Community Services Fund of Nebraska exists to connect you to the causes you care most about.
We make it easy and effective for workplaces and employees to support positive change in their communities. In other words, we exist to help YOU make a difference.
Employers and employees like you raised more than $603,000 dollars for 70 unique Nebraska nonprofits in 2019. Thanks to your help, countless lives are changed every year, and our communities can grow stronger.

What's Our Mission?
Community Services Fund connects you to the charities you care about through Workplace Giving. Here's how it works: businesses and employers who want to give back to their communities become our partners (or, our "Worksites") and give their employees an opportunity to automatically donate a small portion of their regular paychecks.
When employees give to Community Services Fund, those donations go straight to our nonprofit partners (or, our "Member Agencies"). Thanks to hundreds of regular, small donations, these nonprofit organizations can accomplish amazing things in your community.
Mission Statement:
Community Services Fund connects donors to causes they care about most.
Community Services Fund Core Values
The empowerment of all donors to make independent decisions about philanthropy. 
Cooperation for the greater good.
The ability of community donors and volunteers to engage with causes they care about.
The independence of our member agencies. 
Diversity of organizations and missions improving the quality of life for Nebraska.

Workplace Giving only succeeds because, at the end of the day, we believe people are generous. We all want our work to matter. We really do want our communities to be stronger, better places to live.
People want to change the world, but don't realize that they can make a difference personally. Giving to charity might seem like something wealthy people do, or something you do some day, when you are "wealthy enough" to give.
But here's the truth. Most donors look just like you: middle-class folks who decide to give a little bit every day. And when a lot of people give a little every day, it adds up, fast.
Why is Workplace Giving Important?
For the price of a candy bar, regular employee giving…
Has saved Sonny, an unclaimed, lovable bloodhound whose health was threatened by a tumor. Thanks to donors, Sonny could undergo surgery and now lives in perfect health with a caring family. (Capital Humane Society).
Has helped a 55-year old woman named Sheila recover from the alcohol dependency. Sheila is on the road to recovery and fixing her most important relationships–those with her children and grandchild. (The Bridge Behavioral Health).
Has funded a fitness program that helped a young man named Pete lose 60 pounds and get marathon-ready, only months after recovering from a heart attack. (Nebraska Sports Council).
For many more testimonials from those who employee donations have helped, read more about our member agencies' impact.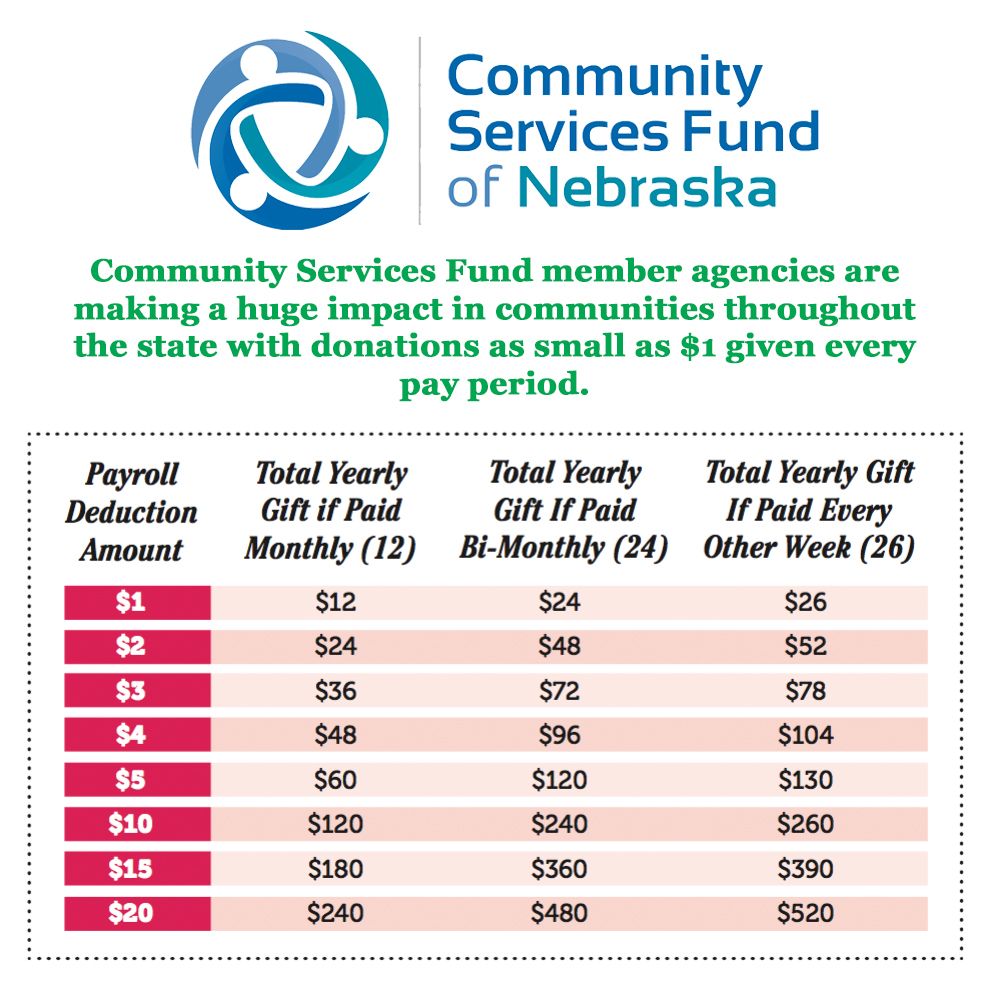 COMMUNITY SERVICES FUND FOLLOWS THE DONOR BILL OF RIGHTS GUIDELINES ESTABLISHED BY THE ASSOCIATION OF FUNDRAISING PROFESSIONALS. Click here to view.
IRS 990 FORM AND OTHER FINANCIAL REPORTS AVAILABLE UPON REQUEST.