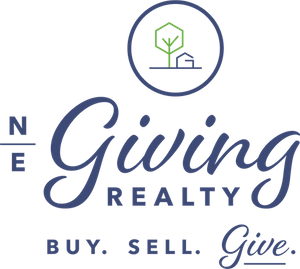 "Nebraska Giving Realty is a locally owned brokerage focused on serving real estate buyers and sellers. As a boutique realty company, we aim to leverage our profession as a vehicle to make an impact in our community beyond just the buyer or seller. We believe that a successful business should be held to a higher standard than just profitability. We pride ourselves as being catalysts for good in our community. We are dedicated to making a conscious effort to better the community by donating 10% of all commissions to local non-profits of our client's choice."
Featured Nonprofits
 
Audubon Nebraska
Audubon Nebraska's mission is to protect birds and the places they need, today and tomorrow.​

The Bridge Behavioral Health
We provide safe passage from addiction to sober living, regardless of ability to pay. We treat substance use disorders and the mental health components that accompany them.
 
Bridges to Hope
Serving men and women who have been incarcerated by providing furniture, clothing, and household items necessary to start a new home.

Capital Humane Society
To fulfill the promise of animals, Capital Humane Society shelters animals, protects animals, and teaches compassion and respect.

CenterPointe
CenterPointe provides 35+ programs in the areas of treatment, rehabilitation, housing and crisis response, helping the people we serve get better, sooner, for longer.

Civic Nebraska
A modern and robust democracy does not build itself. It takes work and dedicated leaders. It starts on our streets, in schools, and neighborhoods, and that's where you will find Civic Nebraska.

Clinic with a Heart
Free healthcare with hospitality, dignity and grace. Staffed by 700+ volunteers, we offer medical, dental, physical therapy, chiropractic, mental health, vision, hearing, and spiritual care.

Foundation for Lincoln City Libraries
The Foundation for Lincoln City Libraries supports Lincoln City Libraries enhancing their programs and services provided to all citizens free-of-charge.

Foundation for Lincoln Public Schools
So that students can reach their full potential, we engage our community to inspire students and educators, and create educational opportunities that enhance academic and personal success.

Habitat for Humanity of Lincoln
Habitat Lincoln brings people together to build homes, communities and hope. We build strength, stability, and independence through affordable housing for low-income families.

Houses of Hope of Nebraska, Inc.
"Building Better Lives in Recovery." Helping individuals, whose lives have been impacted by substance use and mental health, to integrate back into the community.

Humanities Nebraska
As a statewide non-profit, Humanities Nebraska inspires and enriches personal and public life by delivering opportunities to engage thoughtfully with history and culture.

KZUM Radio
Sunrise Communications runs KZUM, a non-profit community radio station that has been broadcasting for 40 years! KZUM works to support independent artists, support the local economy, and promote community engagement.

Leadership Lincoln, Inc.
Leadership Lincoln develops strong leaders for a stronger Lincoln.

Lincoln Arts Council
Championing the arts, connecting people, changing lives through project grants, taking teaching artists to the underserved, and focusing community resources on arts accessibility.

Lincoln Children's Museum 
Lincoln Children's Museum invites children to create, discover, and learn through the power of play.

Lincoln Children's Zoo
Provide Lincoln children with the opportunity to learn firsthand about our special critters. Our mission is to enrich lives through firsthand interaction with living things.

Lincoln Community Playhouse
Mission: To positively transform the lives of individuals and profoundly change our community by providing the finest quality theatre experience in both process and production.

Lincoln Parks Foundation
The mission of the Lincoln Parks Foundation is to inspire and nurture a philanthropic legacy for parks and recreation in our community.

Lincoln's Symphony Orchestra
Lincoln's Symphony Orchestra presents inspiring programs that welcome all members of our community to discover and cultivate a profound, personal connection with live symphonic music.

MilkWorks
MilkWorks is a nonprofit community breastfeeding center with a dedicated and experienced team of IBCLCs and Breastfeeding Educators. We are your expert resource for breastfeeding information.

Museum of Nebraska Art
MilkWorks is a nonprofit community breastfeeding center with a dedicated and experienced team of IBCLCs and Breastfeeding Educators. We are your expert resource for breastfeeding information.

Nebraska Appleseed
Nebraska Appleseed fights for justice with immigrants, refugees, low-income families, and foster youth to build a better Nebraska for all.

Nebraska Court Appointed Special Advocate (CASA) Association
Nebraska CASA Association partners with 21 local programs serving 48 counties to recruit, screen, train, and support volunteers who advocate for abused and neglected children.

Nebraska Coalition to End Sexual and Domestic Violence
The Nebraska Coalition enhances safety and justice by changing beliefs that perpetuate domestic and sexual violence. This is accomplished through public policy efforts, trainings, and supporting member programs.

Nebraska Statewide Arboretum
We plant Nebraska for healthy people, vibrant communities and a resilient environment. We do this through tree planting and garden-making, education, and grassroots engagement.

Nebraska Trails Foundation
The Nebraska Trails Foundation (NTF) helps build and promote multi-use trails for transportation and recreation, encouraging healthy lifestyles while preserving the environment.

NET Foundation for Radio
Enriching lives, engaging minds and connecting Nebraskans through music, news, information, entertainment, and commentary from around the state, nation, and globe. Nebraska's NPR Station.

NET Foundation for Television
Enriching lives, engaging minds, and connecting Nebraskans through music, news, information, entertainment, and commentary from around the state, nation, and globe. Nebraska's PBS Station.

Nonprofit Association of the Midlands
We help nonprofits help their communities. There are thousands of nonprofits in our area and we bring them together so that each member can benefit from our collective strength.

OutNebraska
Empowering and celebrating thriving LGBTQ+ communities across Nebraska through community-building and advocacy.

Rabble Mill (The Bay, Hear Nebraska, Skate for Change)
We create more skilled, supported, connected communities through education, outreach and storytelling across subcultures — skateboarding, music and art.

Ronald McDonald House Charities in Omaha, Inc.
RMHC in Omaha provides a comfortable and supportive home away from home for families traveling to Omaha for their children's life-saving medical care in area hospitals.

Seniors Foundation
The Seniors Foundation believes that regardless of age or income, people deserve to live their best lives. Since 1981, the Seniors Foundation has been raising funds support Aging Partners to enrich the lives of seniors.
---
Other Nonprofits
Interested in learning about other CSF nonprofit options? Check out our brochures below to learn more about all of our member agency nonprofits!