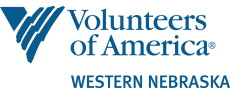 25-WORD DESCRIPTION:
Volunteers of America Western Nebraska is dedicated to focusing on services that help America's most vulnerable.

HOW WE USE YOUR CONTRIBUTIONS:
$5 pays for one assorted food box, with items to be put in our food pantry.
$10 pays for materials to stuff bags with school supplies, given out to community children.
$30 pays for one trip to pick up fresh produce to share with families in our food pantry.
$35 pays for one food basket given out to families in need during the holiday season.

A STORY FROM OUR AGENCY:
Volunteers of America Western Nebraska recently worked with a single father, who had been experiencing domestic violence within his home. Our connection to him came through our home visitation program, focused on engaging parents as the first and most important teachers in their children's lives. After experiencing a crisis situation, the father found himself in an unstable living environment with his 8-month-old child. Our agency was able to help coordinate services to help him move forward. Volunteers of America Western Nebraska was able to provide case management, navigate resources for legal representation, as well as make the initial payments to secure housing for two months so that he could build a better path, for himself and his child. The client recently reached out to our office with a message stating the following: "It's all seeming to come together but the help we got from Volunteers of America Western Nebraska is what made it all possible."
The Volunteers of America story is long and rich. And widely unknown. But we are not chasing fame or glory. Our lives are meant for service. We help because we are impassioned. We are honored.
CAMPAIGN CODE NUMBERS:
Campaign Code: 6069
(For campaigns at University of Nebraska-Lincoln, City of Lincoln, LES, LPS, Lancaster County, SCC and private companies.)
State of Nebraska: 708BR
ADDRESS/PHONE:
305 Main Street
P.O Box 128
Lewellen, NE  69147
308-778-5548
WEBSITE:
CONNECT WITH AGENCY: