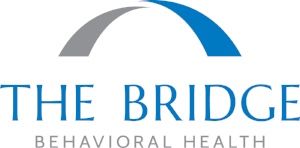 25-WORD DESCRIPTION:
The Bridge provides medical withdrawal, treatment, and recovery support for people with substance use disorders and the mental health issues that often accompany them.
 
HOW WE USE YOUR CONTRIBUTIONS:
$50 can provide food and veterinary care for our service dog, Eddie.
$100 can help us purchase two dozen treatment workbooks for our residential clients.
$250 can help with emergency client transportation and vehicle maintenance.
$500 can help replenish our emergency budget for client medications and doctor appointments.

A STORY FROM OUR AGENCY: 
Robert grew up in small town Nebraska. By the time he was 18, he regularly used alcohol, nicotine, cocaine, hallucinogens, PCP, Xanax, Opioids, meth. Life was a blur. Soon meth became his drug of choice. It was cheap, at first, and easy to get. And he was off to the races in his substance use disorder. More than once, he admitted himself for treatment to The Bridge. With the help of our counselors and professional team, he graduated after 10 weeks in treatment. He got his driver's license back. He has a good, steady job in construction. He rents a house with a peer who's also in recovery. He has responsibilities. He treasures a clean life. Without The Bridge, Robert says he wouldn't be alive. Any chance he gets, he tells his story of how the staff at The Bridge saved his life. Now when he gets stressed, he has coping skills he learned in treatment. He writes songs. He volunteers. He returns for continuing care meetings. He's planning a future, one day at a time. Now, he has hope. And he is grateful to the experts at The Bridge for turning his life around.
CAMPAIGN CODE NUMBERS:
Campaign Code: 6780
(For campaigns at University of Nebraska-Lincoln, City of Lincoln, LES, LPS, Lancaster County, SCC and private companies.)
State of Nebraska: 708I
ADDRESS/PHONE:
721 K Street
Lincoln, Nebraska 68508
402-477-3951
WEBSITE:
CONNECT WITH AGENCY: