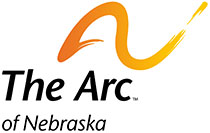 25-WORD DESCRIPTION:
For over 60 years The Arc of Nebraska has provided advocacy to people with intellectual and developmental disabilities and their families.
HOW WE USE YOUR CONTRIBUTIONS:
$14.75 per week goes to help reach out to 1500 families to update them about issues in the disability community. ($177) 
$244.79 goes to help provide trainings on issues from navigating Medicare to improving workplace accessibility. 
$1 per week provides a meal for a person with developmental disabilities with their state senator. ($52)

A STORY FROM OUR AGENCY:
We have a member who was unable to speak until she was 20. Her time in a facility had provided a detrimental environment that left her unable to advocate for herself. She came to a chapter meeting and began to get support. Now following many trainings, care, and support she is a fearless advocate for others with disabilities. She regularly testifies, speaks at events, and organizes others to help make the world a better place for people with disabilities.
CAMPAIGN CODE NUMBERS:
Campaign Code: 6085
(For campaigns at University of Nebraska-Lincoln, City of Lincoln, LES, LPS, Lancaster County, SCC and private companies.)
State of Nebraska: 708C
ADDRESS/PHONE:
215 Centennial Mall South, Suite 508
Lincoln, NE 68508
402-475-4407
WEBSITE:
CONNECT WITH AGENCY: