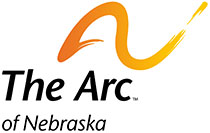 25-WORD DESCRIPTION:
For over 60 years The Arc of Nebraska has provided advocacy to people with intellectual and developmental disabilities and their families.
 
HOW WE USE YOUR CONTRIBUTIONS:
$0.55 helps us get educational materials out to a person with a disability.
$13 helps us to walk a family through service options.
$2 a week helps us to put on training in a rural community. ($104)

A STORY FROM OUR AGENCY:
One of our members lived in an institution for the first 20 years of her life. She barely spoke when she first came to a dance hosted by a local chapter. Through engaging in the trainings we hosted, she became a strong self-advocate speaking out for all people with disabilities. This work gained eventually led to a job, a strong network of friends, and improved access to services.
CAMPAIGN CODE NUMBERS:
Campaign Code: 6085
(For campaigns at University of Nebraska-Lincoln, City of Lincoln, LES, LPS, Lancaster County, SCC and private companies.)
State of Nebraska: 708C
ADDRESS/PHONE:
215 Centennial Mall South, Suite 508
Lincoln, NE 68508
402-475-4407
WEBSITE:
CONNECT WITH AGENCY: