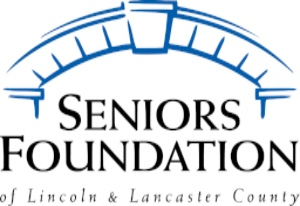 25-WORD DESCRIPTION:
The Seniors Foundation believes that regardless of age or income, people deserve to live their best lives. Since 1981, the Seniors Foundation has been raising funds support Aging Partners to enrich the lives of seniors.

HOW WE USE YOUR CONTRIBUTIONS:
$25 would help pay for a new or slightly used van that will be used to deliver over 50,000 meals a year to senior citizens in Lincoln and Lancaster County.

A STORY FROM OUR AGENCY:
The Seniors Foundation is excited the U.S. Department of Veterans Affairs (VA) has selected the VA Campus as the site to build the Lincoln Community-based Outpatient Clinic (CBOC), a decision that opens the door to further development on the historic east Lincoln site.
This decision ends nearly a seven-year process for the Seniors Foundation, who has been working in public-private partnerships and negotiations with the City of Lincoln, developers, the local engineering, construction company and the Veterans Administration.
The new VA Clinic joins the arrival of the Veterans Assisted Supportive Housing (VASH), housing development, which opened its doors on the VA Campus in November 2017, with 70 apartments to provide homes and support for veterans in transition.
This is perhaps the first time the VA has partnered with a non-profit organization, like the Seniors Foundation, and this will serve as a model for other communities across the country. The Seniors Foundation hopes to add even more services and programs for our seniors and veterans to the development of the VA Campus.
CAMPAIGN CODE NUMBERS:
Campaign Code: 6200
(For campaigns at University of Nebraska-Lincoln, City of Lincoln, LES, LPS, Lancaster County, SCC and private companies.)
State of Nebraska: 708BM
ADDRESS/PHONE:
600 South 70th Street Bldg 7
Lincoln  NE  68510
402-441-6179
WEBSITE:
CONNECT WITH AGENCY: