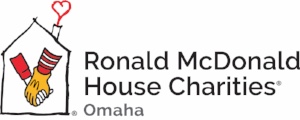 25-WORD DESCRIPTION:
RMHC in Omaha provides a comfortable and supportive home away from home for families traveling to Omaha for their children's life-saving medical care in area hospitals.

HOW WE USE YOUR CONTRIBUTIONS:
$2 per week provides laundry services for a family. ($104)
$10 per month provides one night of comfort and hope for one family. ($120)
$20 per month covers one night's suggested donation from a family. ($240)
$10 per week pays for our van's fuel cost for the entire year, allowing us to provide transportation to families in need. ($520)

A STORY FROM OUR AGENCY:
Jonathan and his mother, Violeta, spent nearly the entirety of 2018 in our House. 353 days, to be exact. The stay wasn't supposed to last that long, but as the recipient of three donated organs, Jonathan's condition leaves his immune system compromised. He had several bouts of various infections, complications from medicines, and even a fractured back last year. And that followed a year in which Jonathan spent months in and out of the hospital, eventually forcing doctors to explant an organ his body was rejecting.
Through all of this chaos, Violeta was able to lean on RMHC in Omaha to help her find a sense of normalcy. Being surrounded by other families experiencing the same things provided invaluable emotional support. Volunteer-prepared meals gave her one less thing to worry about each day. Even something as seemingly simple as 24/7 laundry facilities made an impact, as Violeta says, "It was all very stressful, but knowing you can come to the House and do laundry… it's amazing what clean clothes do for you." Because of incredible supporters, families can enjoy those times where life feels ordinary.
When Jonathan wasn't in the hospital, he had time to play with friends, go to school, and participate in programming provided by collaborative partners. While our House is a thousand miles from their home, Violeta is always confident that she and her son will be well taken care of whenever they need to travel here. "We know that we can always count on the Ronald McDonald House. This is where we belong."
CAMPAIGN CODE NUMBERS:
Campaign Code: 6856
(For campaigns at University of Nebraska-Lincoln, City of Lincoln, LES, LPS, Lancaster County, SCC and private companies.)
State of Nebraska: 708BL
ADDRESS/PHONE:
620 S 38th Ave
Omaha, NE 68105

402-346-9377
WEBSITE:
CONNECT WITH AGENCY: