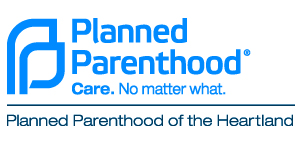 25-WORD DESCRIPTION:
Planned Parenthood of the Heartland's mission: To provide, promote, and protect reproductive and sexual health through health services, education, and advocacy.

HOW WE USE YOUR CONTRIBUTIONS:
$50 covers one Month of Oral Contraceptives and Condoms.
$115 covers one STI visit.
$250 provides one hour of comprehensive sex education programming.
$315 provides one comprehensive sexual health visit, including cancer screenings.
$1,000 provides one IUD.

A STORY FROM OUR AGENCY:
One young woman came to our Lincoln South health center looking for help accessing birth control. Although she had a prescription for oral contraceptives, she struggled to find reliable transportation to pick them up. This inconsistent use made them much, much less effective. She also didn't feel comfortable discussing her concerns with her parents. PPHeartland discussed all her contraceptive options, including continuing on the pill, injections, or long-acting reversible options such as an implant or intrauterine device (IUD). The patient chose an IUD that would provide many years of consistent contraception without the challenge of remembering to take a pill daily and pick up a prescription on a regular basis. In addition, PPHeartland was able to help offset the cost of the appointment, reducing that barrier as well.
CAMPAIGN CODE NUMBERS:
Campaign Code: 6020
(For campaigns at University of Nebraska-Lincoln, City of Lincoln, LES, LPS, Lancaster County, SCC and private companies.)
Combined Federal Campaign: 42762
State of Nebraska: 708BI
ADDRESS/PHONE:
3105 N. 93 Street
Omaha, NE  68134
5631 South 48th Street, Suite 100
Lincoln, NE 68516
877-811-7526
WEBSITE:
CONNECT WITH AGENCY: