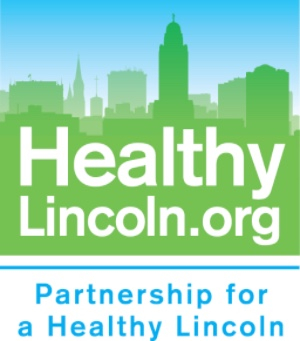 25-WORD DESCRIPTION:
Partnership for a Healthy Lincoln helps people live longer, healthier lives by improving nutrition and fitness, supporting breastfeeding, and improving cancer screening and vaccination rates.

HOW WE USE YOUR CONTRIBUTIONS:
$25 supports our FREE city-wide annual one day event, Streets Alive!, an interactive, outreach festival that improves access to health, wellness, and fitness education and resources in neighborhoods that need it most. Our Streets Alive! Community Development Project leaves a lasting impact beyond the festival by funding projects or programs that improve the health, safety, and vitality of the neighborhoods that host Streets Alive!
$1/week supports patient outreach that (1) saves lives through early detection by helping to increase colon and breast cancer screening rates (2) helps prevent cancer by working to improve HPV vaccination rates in youth, and (3) improves chronic disease management. ($52)
$100 supports nutrition and fitness education programs like WeCook and Nurture Family that help at-risk kids and families learn skills that support a healthier lifestyle.
$3.75/week helps improve the lifelong health of low-income moms and babies by providing professional support and education through the Community Breastfeeding Educator program. ($195)

A STORY FROM OUR AGENCY:
Childhood Obesity rates have tripled since the 1970's resulting in kids living shorter, sicker lives. Kids in lower income neighborhoods are affected even more. We work to combat to the epidemic by (1) supporting school and afterschool nutrition and fitness programs and (2) partnering with medically under-served neighborhoods on a project that promotes physical activity. Our 2017-2017 Streets Alive! Community Development Project raised funds to build an outdoor living and learning center in Belmont Park.
Breastfeeding means not only healthier moms and babies, but a healthier community. Recent research shows that if 90% of families breastfed exclusively for 6 months, nearly 1,000 deaths among infants could be prevented. While over 90% of Nebraska moms intend to breastfeed, under 26% continue to the 1 year recommended by the American Academy of Pediatrics. Clearly, Moms need help and support. Our Community Breastfeeding Educator program has tripled the number of peer educators in the past 2 years to meet the needs of low-income moms in city.
Patient Outreach Nebraska had one of the lowest cancer screening rates in the country. As a result, we and our partners created the Nebraska Physicians Cancer Screening Initiative to help implement systematic changes that would save lives by identifying and screening more patients for breast and colorectal cancer. The multi-year project improved screening rates with the latest data showing that Lancaster County now has the highest screening rates in the Nebraska.
CAMPAIGN CODE NUMBERS:
Campaign Code: 6795
(For campaigns at University of Nebraska-Lincoln, City of Lincoln, LES, LPS, Lancaster County, SCC and private companies.)
State of Nebraska: 708BI
ADDRESS/PHONE:
4600 Valley Road, Suite 250
Lincoln, NE  68510
402-430-9940
WEBSITE:
CONNECT WITH AGENCY: