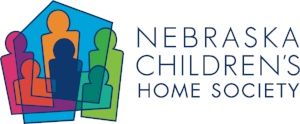 25-WORD DESCRIPTION:

Nebraska Children's Home Society works towards a vision of "a safe and loving family for every child" through three core services: Adoption, Foster Care, and Family Support.
HOW WE USE YOUR CONTRIBUTIONS:
$20 supports support youth education programs that teach vulnerable children positive decision making skills.
$50 provides a month of diapers for a family in need.
$75 assists in the family search process for a child in foster care.
$100 helps provide temporary newborn care in a safe and loving home while the mother makes a parenting plan.

A STORY FROM OUR AGENCY:
Your support is changing lives like Diana's.
Diana and her brother were subjected to physical and emotional abuse from their mother and other adults in their house. It was anything but safe and loving. By the age of 16, she ran away and entered foster care. Soon after she lost her brother at the hands of her mother's abuse.
Diana was in a deep depression and suffered from post-traumatic stress syndrome and in successive years became a mother to children that entered the foster care system with NCHS foster parents.
With the help of mental health counselors, in-home specialists, foster care mentors and parenting classes, Diana became the parent she never had. Although the odds were stacked against her, Diana succeeded in bringing her children back in her care. Today, she has had a constant support network from her NCHS "family" because of your generosity.
The specialists who supported Diana through her journey have the following things to say about her.
• "Diana is great mom who loves her children!"
• "She understands how she was parented and how she can be the best parent possible."
• "She's become a leader in NCHS' support groups by sharing her story with others and guiding them through their challenges."
Diana's life has transformed. She has a full-time job, a home and a positive attitude. She is thriving! Her children are thriving!
Your financial gifts go directly toward helping a mother, a father and a child when they need it most. Gifts of all sizes will help improve the lives of families right here in Nebraska.
CAMPAIGN CODE NUMBERS:
Campaign Code: 6420
(For campaigns at University of Nebraska-Lincoln, City of Lincoln, LES, LPS, Lancaster County, SCC and private companies.)
State of Nebraska: 708AW
ADDRESS/PHONE:
4939 South 118th Street
Omaha, NE 68137
402-898-7750
WEBSITE:
CONNECT WITH AGENCY: