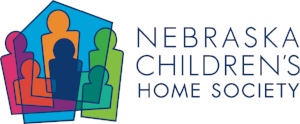 25-WORD DESCRIPTION:
Nebraska Children's Home Society was established in 1893. We serve children by providing their families and caregivers with the services and support they need.
 
HOW WE USE YOUR CONTRIBUTIONS:
$75 provides one hour of academic assistance for a young parent completing his/her education.
$125 provides a car seat for a child in need.
$250 sponsors monthly adoption and birth parent support groups.
$500 provides a month of service for a newborn in our care.

A STORY FROM OUR AGENCY:
Angie is a woman in her 20's who learned of NCHS through the internet and contacted the office in her area. When she called, she shared that she had been parenting her child for 5 weeks and wanted to talk with someone about adoption. Angie shared with her caseworker that she has battled addiction for over 10 years and had been sober for 90 days at the time she contacted NCHS. She shared with her NCHS caseworker that she was not sure she was done using and that her daughter deserved a family with two parents who could provide her with stability. She made the decision to utilize newborn care for her daughter as she went through the process of making a decision.
Angie ultimately made the decision to move forward with adoption. She was drawn to the pictures of the family she selected, most specifically the ones where they were interacting with children. This family would faithfully drive an hour and a half one way to attend NCHS training and events. They wanted to be available to a child who may need them.
Angie went ahead with her adoption plan and signed relinquishments. The family fell in love with their daughter. Angie and the family have stayed in contact and are in the process of developing a wonderful relationship.
CAMPAIGN CODE NUMBERS:
Campaign Code: 6420
(For campaigns at University of Nebraska-Lincoln, City of Lincoln, LES, LPS, Lancaster County, SCC and private companies.)
Combined Federal Campaign: 551
State of Nebraska: 708AU
ADDRESS/PHONE:
4939 South 118th Street
Omaha, NE 68137
402-451-0787
WEBSITE:
CONNECT WITH AGENCY: