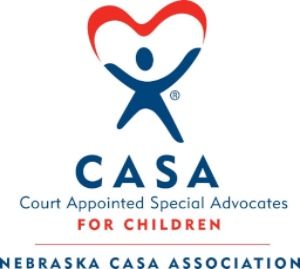 25-WORD DESCRIPTION:
Nebraska Court Appointed Special Advocates (CASA) works with local programs to recruit, screen, train, and support volunteers. CASA volunteers support abused and neglected children. 
 
HOW WE USE YOUR CONTRIBUTIONS:
$25 pays for a manual to train a CASA volunteer.
$100 pays for the annual training for a CASA volunteer.
$500 pays for the initial 30 hour training of a CASA volunteer.

A STORY FROM OUR AGENCY:
Patty has been a CASA volunteer for 4 years, and she has already made such an impact on her very first case. When she first met her CASA child, Jaden, she was cowering in the corner during a pre-hearing conference. Patty immediately connected with her and began building that relationship of trust. During the 2 years that this case was initially active, Patty worked closely with Jaden and we witnessed this girl grow into a more outgoing and confident pre-teen. She was reunited with her mother and her case was closed, but Patty remained a constant in their lives and an informal support. When mom relapsed a year later, and Jaden witnessed her using, it was Patty that she called. At this time, Jaden and her mom are reunited. Patty still sees Jaden weekly, and she is listed on their safety plan. Patty has been an integral part of this family's reunification and success, and everyone on the team recognizes the importance of the life-long friendship she has established with them.
 
CAMPAIGN CODE NUMBERS:
Campaign Code: 6310
(For campaigns at University of Nebraska-Lincoln, City of Lincoln, LES, LPS, Lancaster County, SCC and private companies.)
State of Nebraska: 708AU
ADDRESS/PHONE:
1618 L Street
Lincoln, NE 68508
402-477-2788
WEBSITE:
CONNECT WITH AGENCY: