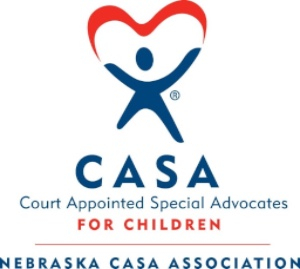 25-WORD DESCRIPTION:
Nebraska CASA Association partners with 21 local programs serving 48 counties to recruit, screen, train, and support volunteers who advocate for abused and neglected children.
 
HOW WE USE YOUR CONTRIBUTIONS:
$25 provides a new volunteer with their training manual.
$35 covers the cost of a background check for a volunteer.
$100 pays for the cost to recruit a volunteer to advocate for an abused or neglected child.

A STORY FROM OUR AGENCY:
A volunteer in rural Nebraska was serving as an advocate for small children who had been removed from their mother's care. Mom's addiction issues kept her from providing a safe home. The CASA volunteer, assigned by the Judge to watch over these small children, reported to the court on their safety and well-being.
This case proceeded with mom fulfilling the requirements to reunify with her children. The children were eventually returned to live with mom. The case was set to close soon, but the CASA volunteer felt she needed to make one more visit.
What she found was a mom who was so high, she was unable to stand. Mom had been using drugs that were undetectable on her required drug tests and fooling everyone in regard to staying sober.
Had the children's CASA volunteer not taken that last final step to make a visit, the case would have closed with no one providing oversight for these small, helpless children.
 
CAMPAIGN CODE NUMBERS:
Campaign Code: 6310
(For campaigns at University of Nebraska-Lincoln, City of Lincoln, LES, LPS, Lancaster County, SCC and private companies.)
State of Nebraska: 708AX
ADDRESS/PHONE:
1618 L Street
Lincoln, NE 68508
402-477-2788
WEBSITE:
CONNECT WITH AGENCY: