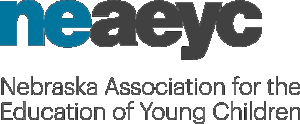 25-WORD DESCRIPTION:
Nebraska AEYC administers projects and services to strengthen and support the early childhood profession, improving the quality of care for young children and their families.
 
A STORY FROM OUR AGENCY: 
Christina graduated at the end of the Winter 2018 term with her Associate's Degree in Early Childhood Education from Metropolitan Community College in Omaha. She was first awarded a T.E.A.C.H. scholarship in the Fall 2015 term. She completed 102 credits on the quarter system at Metropolitan Community College and graduated while working full time as a teacher in a child care program in Elkhorn.
Christina says, "The first time I heard of the T.E.A.C.H. program was two and a half years ago. At first it sounded a little too good to me true to have assistance with school as long as I can continue working at the same center. I decided to apply for it anyways and go for it. The T.E.A.C.H. program has meant so much to me and my family. Without it I would not have been able to complete all of my classes within this last two and a half years. I would be taking one class at a time, hoping to be able to pay for the tuition and books. Because my job sponsored me, I felt that I had a much better support system this time attending college. While this journey has not been easy, I have learned so much, and I am glad I found out about this opportunity."
 
CAMPAIGN CODE NUMBERS:
Campaign Code: 6765
(For campaigns at University of Nebraska-Lincoln, City of Lincoln, LES, LPS, Lancaster County, SCC and private companies.)
State of Nebraska: 708AT
ADDRESS/PHONE:
650 J Street, Suite 23
Lincoln, NE 68508
402-476-5658
WEBSITE:
CONNECT WITH AGENCY: