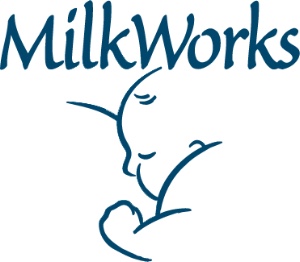 25-WORD DESCRIPTION:
MilkWorks is a nonprofit community breastfeeding center with a dedicated and experienced team of IBCLCs and Breastfeeding Educators. We are your expert resource for breastfeeding information.
 
HOW WE USE YOUR CONTRIBUTIONS:
$35 provides a mom in need with a nursing bra.
$60 offers a mom a ring sling and eduation on baby wearing
$100 supports knowledgable staff at our free Baby Weigh Station and weekly moms groups.
$150 covers breastfeeding consultations for a low income mom and baby.

A STORY FROM OUR AGENCY:
"Thank you so much to your organization! I came in with my 8 week twins a couple days after my husband left for a deployment for some extra help. They had been extra fussy lately and difficult. Not only did my IBCLC help with improvement almost immediately, she also reassured me I was doing a good job and at that moment it was everything I needed. I'll likely be back to make sure our issues are fixed/improving and that the girls are gaining appropriately. I only wish I had come in sooner and with my first daughter. It would've made the breastfeeding journey even better." - Caitlynn E.
CAMPAIGN CODE NUMBERS:
Campaign Code: 6065
(For campaigns at University of Nebraska-Lincoln, City of Lincoln, LES, LPS, Lancaster County, SCC and private companies.)
State of Nebraska: 708AM
ADDRESS/PHONE:
5930 South 58th Street, 
Suite W 
Lincoln, NE  68516
402-423-6402
WEBSITE:
CONNECT WITH AGENCY: