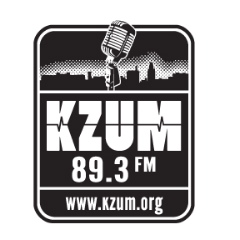 25-WORD DESCRIPTION:
Sunrise Communications runs KZUM, a non-profit community radio station that has been broadcasting for 40 years! KZUM works to support independent artists, support the local economy, and promote community engagement.
HOW WE USE YOUR CONTRIBUTIONS:
It takes about $700 a day to run KZUM.
A 2 hour long show costs about $3000 per year. 
KZUM pays about $7000 a summer to local artists.

A STORY FROM OUR AGENCY:
KZUM makes supporting our local arts scene a priority. Through events coverage, live performances and programming designed to highlight visual arts and local music, we promote more local arts than any other station in the area. As of March 2018, KZUM has created paid performance opportunities for 40 different local music acts. Sixteen of these opportunities offered promotion on an international stage through the SXSW Music Festival in Austin, Texas, and the Folk Alliance International Conference in Kansas City. In addition to music, KZUM provides promotion for Lincoln's visual arts scene. Our organization creates a monthly arts map that highlights special events showing at galleries around town and our program schedule has three shows that feature visual and performing arts. Promoting our local arts scene is promoting the vitality and heart of our community.
CAMPAIGN CODE NUMBERS:
Campaign Code: 6230
(For campaigns at University of Nebraska-Lincoln, City of Lincoln, LES, LPS, Lancaster County, SCC and private companies.)
State of Nebraska: 708BO
ADDRESS/PHONE:
3534 South 48th Street, 
Suite 6
Lincoln, NE 68506
402-474-5086
WEBSITE:
CONNECT WITH AGENCY: