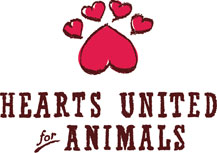 25-WORD DESCRIPTION:
HUA provides quality shelter for pets, refuge for pets of families losing their homes, a low-cost spay/neuter clinic, veterinary care for pets of needy families
HOW WE USE YOUR CONTRIBUTIONS:
$10 per months will vaccinate 12 dogs or cats in a year and save them for illness and possible death. ($120)
$40 a month will spay/neuter a dog or cat every month and prevent unwanted litters of puppies or kittens. ($480)
$100 a month will provide dental health for puppy mill dogs that are suffering from mouth infections that are painful and will cause other illness. ($1200)

A STORY FROM OUR AGENCY:
When Jim was told that Maggie, an eight-year-old Labrador, had a life-threatening growth that must be removed, it was devastating news. Jim was a single dad, raising three children by himself since the death of their mother. His income barely stretched around to monthly needs, and the money was just not there for the costly surgery Maggie needed. He could not bear to tell the children that their beloved dog might not be with them much longer. Maggie was distressed and in pain, and they all knew she was suffering.
The receptionist at the veterinary clinic advised Jim to call Hearts United for Animals and ask if there could be some assistance. He figured that was a long shot but made the call. The voice on the other end of the line was all business, but Jim knew he had reached a very sympathetic person. Arrangements were made with the veterinary clinic, and two days later Maggie had her surgery. Three happy children went with their dad to bring her home from the hospital. Maggie's bill was substantial but a small price to pay to stop the suffering of a precious dog and the people who love her.
CAMPAIGN CODE NUMBERS:
Campaign Code: 6440
(For campaigns at University of Nebraska-Lincoln, City of Lincoln, LES, LPS, Lancaster County, SCC and private companies.)
Combined Federal Campaign: 10971
State of Nebraska: 708U
ADDRESS/PHONE:
73420 638th Avenue
P.O. Box 286
Auburn, NE 68305
402-274-3679
WEBSITE:
CONNECT WITH AGENCY: