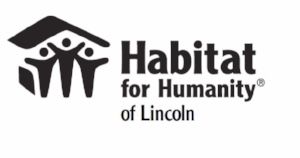 25-WORD DESCRIPTION:
Habitat Lincoln brings people together to build homes, communities, and hope. Homeowners achieve strength, stability, and independence to build a better life.
HOW WE USE YOUR CONTRIBUTIONS:
$25 buys nails and other vital materials for a house.
$100 buys a front door for a house.
$200 buys a pack of shingles for a house. 
$500 buys paint for a house.
$1,000 buys gutters for a house.

A STORY FROM OUR AGENCY:
Habitat for Humanity builds AND repairs homes for qualified low-income families.
Lar and Mya renovated a reclaimed Habitat home, alongside volunteers during Women Build re-landscaping, painting, hanging sheet rock, installing new cabinets and more. While they worked on their home, they met their neighbor and bonded over their love of gardening. The house looks completely brand new and is next door to Habitat homeowners Pa Na and Wasana, who happens to be family friends and was their family partner.
Lar, Mya and their four young children were living in a small two-bedroom apartment for the last two years. Mya and the three children sleep in one room and the baby and Lar sleep in the other room. The complex is not well maintained; it is dirty and has lightbulbs out in the main areas. The family lives on the second floor and has a sliding glass balcony door. It is not secured on the track and has fallen into the apartment. To solve the problem, their landlord gave them a piece of wood to "secure" the door in place, however, the door doesn't shut all the way leaving an inch gap which lets in the cold air. Lar and Mya are concerned for their children's safety if the door would happen to fall out again.
Now, they have a safe, secure, stable place to call home and raise their young family.
CAMPAIGN CODE NUMBERS:
Campaign Code: 6040
(For campaigns at University of Nebraska-Lincoln, City of Lincoln, LES, LPS, Lancaster County, SCC and private companies.)
State of Nebraska: 708V
ADDRESS/PHONE:
4615 Orchard St
Lincoln, NE 68503
402-477-9184
WEBSITE:
CONNECT WITH AGENCY: