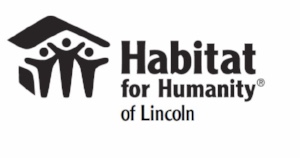 25-WORD DESCRIPTION:
Habitat Lincoln brings people together to build homes, communities and hope. We build strength, stability, and independence through affordable housing for low-income families.
HOW WE USE YOUR CONTRIBUTIONS:
$25 helps pay for nails.
$10 per month buys an energy efficient window.
$5 a week installs a shower. ($260)

A STORY FROM OUR AGENCY:
Abdelkarim and his wife Sailwa are raising four young sons ages 2 – 11. They lived in a three-bedroom, 1- bathroom home that had a lot of structural damage. The windows were hard to open, and some are missing screens leaving them unusable. They had no air conditioning and only one window unit which was in the living room. The children would sleep together in the living room during the hot summer months.
The basement was unusable because of the leaking water pipes and overgrowing mold. The family battled against snakes and mice coming into the home. They tried traps and home pest control, but the problem remained. This home was one of the worst, in terms of conditions, the homeowner selection committee visited during 2018.
Abdelkarim and Sailwa applied for the homebuyer program so they could build a better future for their children. They wanted a safe home to raise their growing sons. They look forward to being good neighbors by taking care of each other, helping others out and becoming part of the neighborhood.
"I tell my kids today 'Grow up, go to school, be successful and then give back to your community that helped you.' It is important to stay involved with Habitat for Humanity who has given us so much."
In addition to celebrating the dedication of his home, that same week Abdelkarim graduated from Southeast Community College with his associate degree in Business Administration. His ultimate goal is to become a CPA.
Your donations supported Abdelkarim and Sailwa's dream of affordable homeownership. They will raise their young family in safe, affordable home. They have a place to study, pay an affordable mortgage and continue their educational dreams.
CAMPAIGN CODE NUMBERS:
Campaign Code: 6040
(For campaigns at University of Nebraska-Lincoln, City of Lincoln, LES, LPS, Lancaster County, SCC and private companies.)
State of Nebraska: 708V
ADDRESS/PHONE:
4615 Orchard St
Lincoln, NE 68503
402-477-9184
WEBSITE:
CONNECT WITH AGENCY: