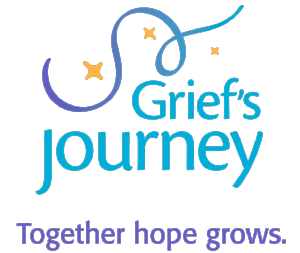 25-WORD DESCRIPTION:
Grief's Journey is a place to find comfort, understanding, and hope. Free invaluable services for children, adults, and families grieving the death of a loved one or serious illness/injury.

HOW WE USE YOUR CONTRIBUTIONS:
$100 could help provide a meal at one of our free grief support sessions where food is used to build community and trust.
$500 could help cover the cost of one teen to attend Camp Hope, the overnight retreat just for teenagers that have experienced a significant death.
$1000 could help cover the cost of a family of four to attend 8-session support groups.

A STORY FROM OUR AGENCY:
"My husband was in a fatal motorcycle accident. Our girls at that time were 8 and 3 years old. We felt very nervous about sharing our story but I wanted to make sure the girls felt comfortable enough to talk about it and heal in the process. Grief's Journey has been life changing for our family. My girls are able to talk about their dad and although we are still in the grieving process we have made a lot of progress. It's been about 3 years now since our first support sessions and the girls still talk about how much they enjoyed it." - Maria
CAMPAIGN CODE NUMBERS:
Campaign Code: 6854
(For campaigns at University of Nebraska-Lincoln, City of Lincoln, LES, LPS, Lancaster County, SCC and private companies.)
State of Nebraska: 708U
ADDRESS/PHONE:
7811 Farnam Drive
Omaha, NE 68114

402-502-2773
WEBSITE:
CONNECT WITH AGENCY: