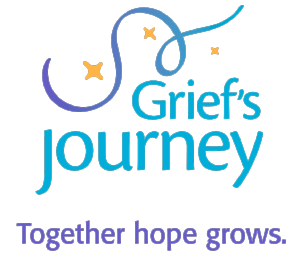 25-WORD DESCRIPTION:
Grief's Journey is a place to find comfort, understanding, and hope. Free invaluable services for children, adults, and families grieving the death of a loved one or serious illness/injury.

HOW WE USE YOUR CONTRIBUTIONS:
$100 could help provide a meal at one of our free grief support sessions where food is used to build community and trust.
$500 could help cover the cost of one teen to attend Camp Hope, the overnight retreat just for teenagers that have experienced a significant death.
$1000 could help cover the cost of a family of four to attend 8-session support groups.

A STORY FROM OUR AGENCY:
"We're grateful to the staff and support at Grief's Journey for helping us walk through the most difficult time in our lives," Sarah, Shawnee and Lucas.
Sarah and her family came to Grief's Journey in January 2019 after the death of Gary, husband and father. Gary died December 2018 from an unexpected heart attack. Sarah and Gary had been married for 15 years. Pregnancy didn't come naturally, so they chose to adopt through the foster care system. Sarah and Gary welcomed their two older children, Danny and Shawnee, when they were 6 and 8 years old in 2009. Lucas came into the family as a newborn in 2010.
Gary's death came as a complete shock. They found themselves lost as they missed "an excellent provider, spiritual encourager, and the one who brought the fun."
Sarah knew the importance of getting grief support for her family due to her role as a social worker, so they attended support groups and the Spring Family Day at Grief's Journey. "Due to the support of Grief's Journey, Shawnee is now volunteering with horses and has made improvements at school and home. She is expressing her grief more versus holding it in, using tools she learned in her Grief's Journey small group. Lucas is also more expressive with his grief and is talking about dad now," said Sarah.
The family continues to utilize services and activities at Grief's Journey as they "try to find Gary's presence in our everyday lives and for ways we can continue to grow together, remember his servant heart and the encouragement that he gave us," said Sarah. "Even though the hurt is greater than we could have ever imagined; it is the result of having loved so deeply."
CAMPAIGN CODE NUMBERS:
Campaign Code: 6854
(For campaigns at University of Nebraska-Lincoln, City of Lincoln, LES, LPS, Lancaster County, SCC and private companies.)
State of Nebraska: 708U
ADDRESS/PHONE:
7811 Farnam Drive
Omaha, NE 68114

402-502-2773
WEBSITE:
CONNECT WITH AGENCY: