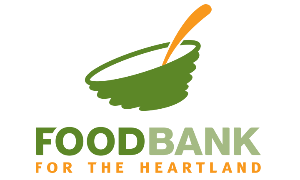 25-WORD DESCRIPTION:
Serving as a clearninghouse to distribute emergency food (fresh produce, dairy, shelf stable food) to partners in 93 counties in Nebraska and western Iowa.

HOW WE USE YOUR CONTRIBUTIONS:
Every $1 donated could provide up to three meals to hungry neighbors. Because we buy in bulk, we can stretch your dollar further.
$160 sponsors a child in the BackPack program, providing a back pack full of shelf stable food each weekend to an elementary school child who is hungry.
$250 provides 1,250 pounds of apples for pantries across our service area.
$500 provides 1,449 boxes of macaroni and cheese to our neighbors in need. 
$1,000 provides 12,195 pounds of potatoes for families trying to stretch their paycheck further.
$3,200 sponsors a mobile pantry truck, delivering fresh produce, dairy and shelf stable products to communities in need.

A STORY FROM OUR AGENCY:
Partnership Builds Career Skills and Promotes Philanthropy Through a new partnership with Food Bank for the Heartland, students in Bryan High School's Transportation, Distribution and Logistics (TDL) program are learning career-readiness skills while helping food-insecure children throughout Nebraska and western Iowa.
TDL students are packing 2,050 food bags on site at the high school each week for the BackPack program. This is approximately 25 percent of the total number distributed each week during the school year by the Food Bank.
In September 2018, Food Bank staff members Dave Love, distribution center director, and Spencer Cohorst, volunteer coordinator, met with students and faculty in the TDL program about the purpose and logistics of packing and distributing food bags for the BackPack program. The Food Bank also delivered materials necessary for packing the food bags and readying them for distribution.
Some students were familiar with the program because they had personally received BackPack meals as elementary students. TDL faculty members say that the students are invested in this partnership with Food Bank for the Heartland not only because they are learning valuable supply chain management skills but also because they know they are making a difference for the at-risk children who are participating in the BackPack program and are receiving the meals they packed.
CAMPAIGN CODE NUMBERS:
Campaign Code: 6858
(For campaigns at University of Nebraska-Lincoln, City of Lincoln, LES, LPS, Lancaster County, SCC and private companies.)
State of Nebraska: 708R
ADDRESS/PHONE:
10525 J Street
Omaha, NE 68127
402-331-1213
WEBSITE:
CONNECT WITH AGENCY: