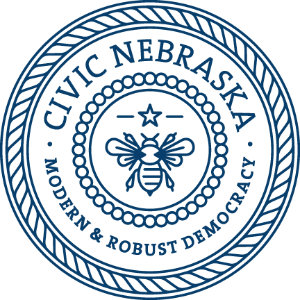 25-WORD DESCRIPTION:
We believe that building an engaged and informed society takes work.. We stand for these beliefs in our streets, schools, neighborhoods, and in institutions.

HOW WE USE YOUR CONTRIBUTIONS:
$15 provides postage for a middle school class to send letters to their senator.
$20 protect against Voter ID laws in Nebraska.
$36 provides materials for a Voter Advocate Training.
$74 funds 1 Civic Health community conversation and asset mapping.
$250 provides lunch for a class attending our Capitol Experience Day program.

A STORY FROM OUR AGENCY:
If you could be anything in the world, what you would be? And why? A wizard. A superhero. A pilot. A rap artist. An actress. A millionaire. Once the young scribes at Civic Nebraska's Lothrop after-school Community Learning Center got rolling, there was no end to the creative flow.
"Now, don't forget," Damion Sayers said over the rising classroom buzz, each of the dozen students under his watchful eye. "The second question. That's to tell me more about it. Tell me why.
Active minds and newly sharpened pencils got going again. The students proudly handed Sayers their notebooks, satisfied with the first entries in what by the end of May will be a bound and printed chronicle of their vision.
"Writing can be hard," third-grader Ronall, 9, said. "But it's fun."
Sayers, who owns and operates the neighborhood barbershop Transitions, is a regular contributor to the Lothrop CLC. A childhood literacy advocate, he and others have created the North Omaha Barbershop Books project. Owners stock their shops with children's books so that when kids or their families come in for a cut, they can open one up to read – or even take a book home if they like.
Sayers said literacy is more than reading, however. That's why the Visionary Book Writing Project puts Lothrop students in the role of writers – and importantly, of picturing themselves doing big things. Third-graders write each month about a different aspirational topic with themselves at the center of the story.
"We love to see our students thinking critically about their role in the world, and imagining how they can act to create positive change," said Equasha Smith-Gooch, Civic Nebraska's Lothrop CLC site director. "I'm grateful to Damion for being a great connection between the school, the CLC, and the community.
 
CAMPAIGN CODE NUMBERS:
Campaign Code: 6025
(For campaigns at University of Nebraska-Lincoln, City of Lincoln, LES, LPS, Lancaster County, SCC and private companies.)
State of Nebraska: 708N
ADDRESS/PHONE:
1111 Lincoln Mall, Ste 350
Lincoln, NE  68508
402-904-5191
WEBSITE:
CONNECT WITH AGENCY: