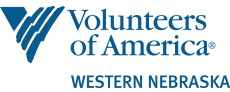 25-WORD DESCRIPTION:
Focused on uplifting all people through human service programs such as a food pantry, mental health services, rural preschools/childcare centers, and health promotion services.

HOW WE USE YOUR CONTRIBUTIONS:
$10 will purchase a 15 lb box of food for our food pantry.
$25 will provide a scholarship for an 8-week parenting course for a participating parent.
$30 a week will cover the cost of mileage to transport fresh fruits/vegetables to our food pantry.
$100 will purchase one month of healthy afternoon snacks for the children in our childcare centers.

A STORY FROM OUR AGENCY:
Volunteers of America - Western Nebraska offers a unique food pantry. Our purpose is to serve the hungry. Other food pantries have implemented barriers, we have chosen to eliminate barriers and focus on distributing food to those in need. Here are a few of the comments received from users:
"Money just doesn't go far enough and sometimes we are just struggling to make any kind of meal to feed our little guy, to hold us over. We have been so thankful to have this food bank close enough to help."
"I can supplement with pantry food to have a well rounded, delicious meal. Being a senior citizen, this is great."
"If this pantry was not here, I would not make it month to month as I am on a fixed income."
"I am thankful for the food pantry because over the past three years, it has helped me feed my kids when I needed help the most."
CAMPAIGN CODE NUMBERS:
Campaign Code: 6069
(For campaigns at University of Nebraska-Lincoln, City of Lincoln, LES, LPS, Lancaster County, SCC and private companies.)
State of Nebraska: 708BL
ADDRESS/PHONE:
305 Main Street
P.O Box 128
Lewellen, NE  69147
308-778-5548
WEBSITE:
CONNECT WITH AGENCY: