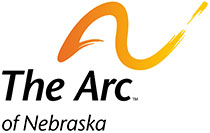 25-WORD DESCRIPTION:
The Arc of Nebraska advocates for the rights and full inclusion of all children and adults with intellectual and developmental disabilities.
HOW WE USE YOUR CONTRIBUTIONS:
$1 per week provides a meal for a person with developmental disabilities with their state senator. ($52)
$5 per week provides for one family to attend a training sponsored by The Arc. ($260)
$50 provides an opportunity for a person with a developmental disability to attend a conference.
 $75 provides a family with a membership to The Arc of Nebraska.
$100 sponsors our website for a month.

A STORY FROM OUR AGENCY:
Thanks to the generosity of CFS contributors, The Arc of Nebraska was able to pair 5 people experiencing a developmental disability with their State Senator for a dinner and conversation about important legislative decision to be made in 2017. One of those conversations has led to a monthly meeting over coffee with a self-advocate and their State Senator, a true relationship has been created. Thank you for your consideration of a donation.
CAMPAIGN CODE NUMBERS:
Campaign Code: 6085
(For campaigns at University of Nebraska-Lincoln, City of Lincoln, LES, LPS, Lancaster County, SCC and private companies.)
State of Nebraska: 708C
ADDRESS/PHONE:
215 Centennial Mall South, Suite 508
Lincoln, NE 68508
402-475-4407
WEBSITE:
CONNECT WITH AGENCY: