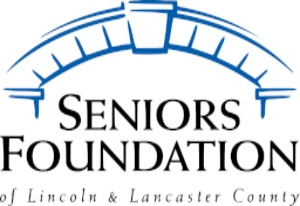 25-WORD DESCRIPTION:
The Seniors Foundation of Lincoln & Lancaster County supports the programs and services of Aging Partners and the development of the VA Campus for seniors and veterans.

HOW WE USE YOUR CONTRIBUTIONS:
$8 would cover the cost of transportation to and from the fitness center.
$10 would pay the monthly fitness center suggested contribution for a low-income older adult. 
$20 would pay for one hour of personal training services for a low-income older adult. 
$16 would pay for one month of weekly seated Tai Chi classes. 
$30 would pay for one Tai Chi or Yoga class for a group of Karen, Sudanese or Yazidis older adult refugees.

A STORY FROM OUR AGENCY:
"The Aging Partners Fitness Center has been a blessing for me. After my heart attack three years ago, my heart surgeon told me had I not been working out regularly, I most likely would not have survived the attack. The Fitness Center has enabled me to lose 45 pounds and keep it off. I try to work out three to five times a week and plan to keep coming back as long as possible."
CAMPAIGN CODE NUMBERS:
Campaign Code: 6200
(For campaigns at University of Nebraska-Lincoln, City of Lincoln, LES, LPS, Lancaster County, SCC and private companies.)
State of Nebraska: 708BG
ADDRESS/PHONE:
600 South 70th Street Bldg 7
Lincoln  NE  68510
402-441-6179
WEBSITE:
CONNECT WITH AGENCY: