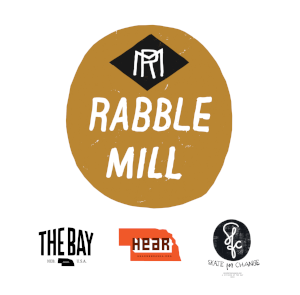 25-WORD DESCRIPTION:
Rabble Mill (Hear Nebraska and The Bay) works to end generational poverty for low-income and at-risk youth through subcultures — skateboarding, music, and art.
HOW WE USE YOUR CONTRIBUTIONS:
$5 buys one meal for an All-Access Pass student.
$10 provides a month of access to the Collective for an All-Access Pass student.
$20 provides a month of access to our indoor skatepark for an All-Access Pass student.
$75 a month provides one month of All-Access Pass services to a low-income or at-risk student.

A STORY FROM OUR AGENCY:
Years ago, we were referred to a young woman who had been raped by a relative and gave birth to a child that has cerebral palsy and autism. When our outreach staff met with her in a group home, the woman was in a very unstable situation. Nikki assessed her needs and opportunities, helped her manage her finances through Community Action Financial Counseling, secure a car through a local car dealer's charitable program, and access resources necessary to adequately care for her son. Gaining control of her budget allowed this woman to pursue higher education. In 2017, she earned her college degree, and gained a job at LPS. With this woman now in a very stable situation, our outreach staff has begun working to help her brothers.
CAMPAIGN CODE NUMBERS:
Campaign Code: 6435
(For campaigns at University of Nebraska-Lincoln, City of Lincoln, LES, LPS, Lancaster County, SCC and private companies.)
State of Nebraska: 708BJ
ADDRESS/PHONE:
2005 Y Street
Lincoln, NE 68503
402-310-5215
WEBSITE:
CONNECT WITH AGENCY: