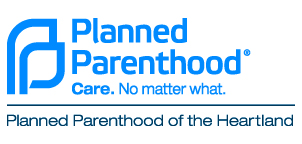 25-WORD DESCRIPTION:
Planned Parenthood of the Heartland's mission: To provide, promote and protect reproductive and sexual health through health services, education and advocacy.

HOW WE USE YOUR CONTRIBUTIONS:
$15 provides a pregnancy test or a rapid HIV test.
$25 provides 125 condoms to encourage safe sexual encounters.
$50 covers the cost of testing a woman and her partner for two common sexually transmitted infections (STIs) that can cause infertility if untreated.
$150 provides a three-month supply of oral contraceptives and condoms to protect a woman and her partner from unintended pregnancy.
$250 provides one woman with a comprehensive annual exam that includes lifesaving screenings for breast and cervical cancers.

A STORY FROM OUR AGENCY:
 "I grew up in a family that didn't expect much from me. From the time I was 11, my father lectured me on not getting pregnant because he expected me to become a teenage mother. I carried that message with me and wanted to prove my father wrong. When I was 17, I made the decision to become sexually active, and I went to Planned Parenthood. I'm now 26, and for almost a decade, I have relied on Planned Parenthood for multiple services, from birth control to annual women's wellness and breast exams, and sexual health screenings. Planned Parenthood has always given me compassionate, informed care. I have never felt judged for my decisions. I always leave Planned Parenthood feeling more empowered than I did when I walked in; they helped me realize that I choose the narrative of what happens in my life." ~ a PPH patient
50% of PPH patients in Nebraska are at or below the federal poverty level; many receive health services solely thanks to your generosity. Last year, you helped provide 8,799 Nebraskans with: 
·        Contraception (36% of the health services PPH provided last year)
·        STI testing and treatment (44%)
·        Annual screenings for cervical and breast cancer 
·        Services to 941 males
·        LGBT care
·        Transgender care
You also provided education programs that reached 9,245 teens, adults, parents, families and professionals.
CAMPAIGN CODE NUMBERS:
Campaign Code: 6020
(For campaigns at University of Nebraska-Lincoln, City of Lincoln, LES, LPS, Lancaster County, SCC and private companies.)
Combined Federal Campaign: 42762
State of Nebraska: 708BF
ADDRESS/PHONE:
3105 N. 93 Street
Omaha, NE  68134
5631 South 48th Street, Suite 100
Lincoln, NE 68516
877-811-7526
WEBSITE:
CONNECT WITH AGENCY: