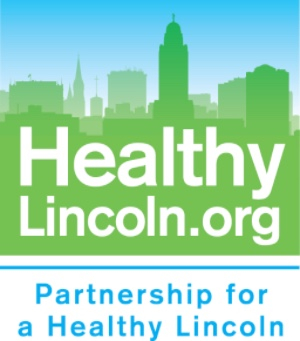 25-WORD DESCRIPTION:
Partnership for a Healthy Lincoln works to help everyone live longer, healthier lives by improving nutrition and fitness, supporting breastfeeding, and improving cancer screening rates.

HOW WE USE YOUR CONTRIBUTIONS:
$25 helps improve community access to health, wellness, and fitness information through our FREE city-wide event, Streets Alive!, an interactive, outdoor festival along a two mile stretch of the city, block off from traffic, that is family and wheelchair friendly.
$45 – less than $1 per week helps support childcare staff in teaching children and families how to make healthy food and beverage choices, supporting better health for the rest of their lives.
$3.75 per week helps improve the health of infants and babies by providing professional support and education about the lifelong benefits of breastfeeding to 5 new low-income moms. ($195)
$31 per month helps support worksite wellness programs that improve employee health and productivity. ($372)
$9.62 per week helps to improve the health, fitness, and academic performance of K-12 students by supplying an entire Lincoln Community Learning Center site with supplies for a year to support nutrition and fitness education. ($500)

A STORY FROM OUR AGENCY:
Poor nutrition and inactive lifestyles has prompted an increase in obesity and obesity-related chronic diseases, especially in children. The impact of this epidemic can shave five years off our children's lives and cost our nation millions in increased healthcare costs and lost productivity. Studies show this may be the first generation of children to live shorter, sicker lives than their parents.
PHL is dedicated to improving health, wellness, and fitness in Lincoln and Lancaster County. We collaborate with over 20 local organizations on projects increasing the impact of our joint efforts - helping our community live longer, healthier lives. Initiatives include:
Infants and Babies: Through the Lincoln Community Breastfeeding Initiative, we work to implement consistent, evidence-based policies and education to improve the long-term health of mothers and babies.
Early Childhood: In the early childcare setting, we work with partners to teach families about healthy nutrition and the lifelong benefits of increased physical activity.
School Age: With Lincoln Public Schools and other organizations, we work to implement district-wide wellness policies to help schoolchildren reach healthy weights and improve fitness. Studies show that kids who are healthy and fit do better in school.
Community and Neighborhoods: To improve the well-being of our entire community, we collaborate with local organizations to bring health, wellness, and fitness education and programs to the workplace and all our neighborhoods.
CAMPAIGN CODE NUMBERS:
Campaign Code: 6795
(For campaigns at University of Nebraska-Lincoln, City of Lincoln, LES, LPS, Lancaster County, SCC and private companies.)
State of Nebraska: 708BD
ADDRESS/PHONE:
4600 Valley Road, Suite 250
Lincoln, NE  68510
402-430-9940
WEBSITE:
CONNECT WITH AGENCY: