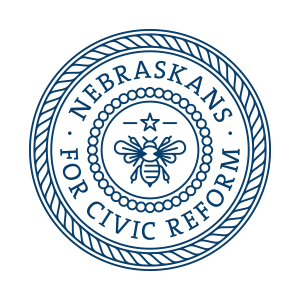 25-WORD DESCRIPTION:
Nebraskans for Civic Reform is committed to creating a more modern and robust democracy for all Nebraskans through youth civic engagement and service learning, community health, and nonpartisan voting rights advocacy programs.

HOW WE USE YOUR CONTRIBUTIONS:
$15 dollars provides postage for one middle school class to send a letter to their state senator about an issue that they want to change in their community. 
$36 dollars provides materials for a Voter Advocate training. 
$74 dollars covers the cost of a Civic Health community conversation and facilitation of community asset mapping to cultivate change in rural communities.

A STORY FROM OUR AGENCY:
The Dawes homework zone serves thirty students on a weekly basis. Students can attend up to four days per week. Students who attend homework zone increase their academic performance, benefit from better relationships with adults, and build their grit by learning the connection between effort and success. Homework zone has also strengthened relationships between families and school by increasing communication and decreasing the stress of supporting students with failing grades at home.
Several students have benefitted from the opportunity of homework zone. For example, Isaac was suffering from poor grades due to missing work and low test scores. Absences had contributed to this problem. After speaking with Isaac's father, Isaac began attending four days a week. His grades made a dramatic improvement, especially in math and language arts.
In addition, Hailey has also seen successes after starting homework zone. Hailey requires additional time to get all classwork done. Homework zone has helped her get caught up on missing and incomplete work, keep her on pace with the curriculum, and offer extra support when needed. Her grade has moved from a C to a B.
Ally, a seventh grader, is another success story. Before starting homework zone she was scoring F's and low D's on her summative math assessments. She started homework zone and caught up on missing homework. After catching up she is continuing to come to homework zone for additional math help on current assignments. Her past two test scores were both A's.
Homework zone has helped students at Dawes prosper by assisting students with chronically low test scores to improve their confidence and test scores. It provides them with a quiet, safe place to complete work while holding them accountable. Each student has an updated Google document with their current grades in classes, missing assignments, and completed work.
Homework zone also provides opportunities for individual tutoring by certified staff. Each evening, there are at least two staff members in the classroom to collaborate with students. The facilitators break down difficult tasks into manageable chunks for students.
The Dawes creed states, "We Care. We Learn. We Hope. We Succeed. We believe. We are Dawes." Homework zone celebrates this creed by providing gentle reminders that we care about their academic success even if they do not; students experience academic success, which builds their confidence.
CAMPAIGN CODE NUMBERS:
Campaign Code: 6025
(For campaigns at University of Nebraska-Lincoln, City of Lincoln, LES, LPS, Lancaster County, SCC and private companies.)
State of Nebraska: 708AW
ADDRESS/PHONE:
1111 Lincoln Mall, Ste 350
Lincoln, NE  68508
402-904-5191
WEBSITE:
CONNECT WITH AGENCY: