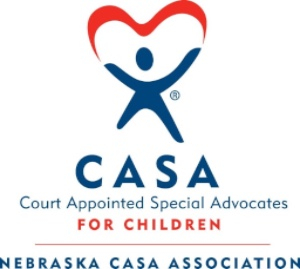 25-WORD DESCRIPTION:
Nebraska CASA Association partners with 21 local programs serving 45 counties to recruit, screen, train and support volunteers who advocate for abused and neglected children.
HOW WE USE YOUR CONTRIBUTIONS:
$25 provides a new volunteer with their training manual.
$100 covers the cost of background checks for 4 volunteers.
$1000 provides a child in the court system because he/she is the victim of abuse and neglect, a Court Appointed Special Advocate (CASA).

A STORY FROM OUR AGENCY:
Alex entered the foster care system at the age of 5. He had been brutally sexually abused and severely neglected for much of his young life. Alex was a "difficult to place" child as much of his trauma resurfaced in behaviors that often were too much for his foster parents to handle. Many professionals on the case were trying to send Alex out of state. His CASA volunteer did not believe that was best for him. CASA insisted and recommended that Alex stay in the Omaha area and he was placed with an amazing pre-adoptive family that had 3 other biological children.
Although this home appeared to be everything that Alex needed (children his age, therapeutic support, engaged parents, a big home, and a family pet), he continued to exhibit behaviors that were too much for his foster parents to take. They anguished over giving their notice but eventually made the decision to have him moved. Alex was moved again for the 7th time to a temporary foster home.
In April 2014, Alex was going to be moving to his 8th placement in 6 years, but this one would be different. Tom and Diane had heard about Alex, researched his history and picked him to be their son. Within a few short weeks, Alex's behaviors ceased and he finally began to thrive. Alex shared with his CASA Volunteer that he "finally feels safe" for the first time. Alex was adopted in June of 2015 and now has a safe, loving forever home.
CAMPAIGN CODE NUMBERS:
Campaign Code: 6310
(For campaigns at University of Nebraska-Lincoln, City of Lincoln, LES, LPS, Lancaster County, SCC and private companies.)
Combined Federal Campaign: 59442
State of Nebraska: 708AP
ADDRESS/PHONE:
1618 L Street
Lincoln, NE 68508
402-477-2788
WEBSITE:
CONNECT WITH AGENCY: