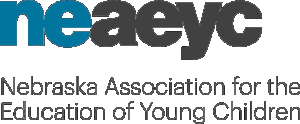 25-WORD DESCRIPTION:
Nebraska AEYC administers projects and services to strengthen and support the early childhood community and improve the quality of care for young children and their families.
A STORY FROM OUR AGENCY: 
Ariel Shearer graduated at the end of the Summer 2016 term with her Unified Early Childhood Endorsement from the University of Nebraska at Kearney. Ariel is a full time teacher for 4-5 year old children at Westside Early Childhood/Paddock, a childcare program in Omaha.
Ariel was first awarded a T.E.A.C.H. scholarship in the Fall 2012 term. She completed 54 credits on the semester system online at the University of Nebraska at Kearney while working full time in Omaha for her sponsoring childcare program.
Ariel says, "What the T.E.A.C.H. scholarship has meant to me: I have higher standards set for myself in the quality of care I provide thanks to having a T.E.A.C.H. scholarship. I am more knowledgeable in early childhood development. I feel more confident in making long-term decisions and goals with my Unified Early Childhood endorsement. I feel the T.E.A.C.H. scholarship has opened doors for future possibilities and widen my range of abilities as a teacher. Not only do I have my original endorsement of teaching K-12 art, I now have an endorsement to teach birth through eight years old!"
CAMPAIGN CODE NUMBERS:
Campaign Code: 6765
(For campaigns at University of Nebraska-Lincoln, City of Lincoln, LES, LPS, Lancaster County, SCC and private companies.)
State of Nebraska: 708AO
ADDRESS/PHONE:
650 J Street, Suite 23
Lincoln, NE 68508
402-476-5658
WEBSITE:
CONNECT WITH AGENCY: