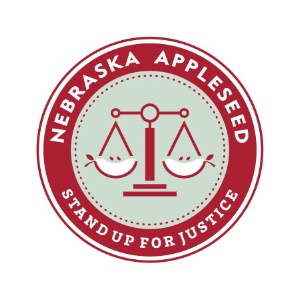 25-WORD DESCRIPTION:
Nebraska Appleseed fights for justice and equal opportunity for all Nebraskans. We focus on health care access, economic inequality, child welfare, and immigration, and do our work at the courthouse, at the Capitol, and in Nebraska communities.
HOW WE USE YOUR CONTRIBUTIONS:
$30 to have a voter registration booth at a community event.
$50 prints 300 Know Your Rights brochures for community members.
$100 hosts an advocacy party, educating supporters on how to take action.
$200 covers travel costs for two community members to testify at the Nebraska state capitol.

A STORY FROM OUR AGENCY:
Jorge, a first-generation undocumented student at the University of Nebraska - Lincoln, always worked hard and excelled in school. After graduating with his Masters of Professional Accountancy from UNL, Jorge was studying to sit for his Certified Public Accountant exams.
Jorge came to the United States with his parents at only five-years old. He has called Nebraska his home for nearly two decades. So when he discovered that he could not be professionally licensed as an accountant in Nebraska, he couldn't believe it. He had grown up, worked, and studied in Nebraska his whole life. He wanted the opportunity to fully apply the skills he had learned in Nebraska, his home.
Through Nebraska Appleseed, Jorge and other DACA (Deferred Action for Childhood Arrivals) recipients were able to help develop a bill, LB 947, that would allow DACA recipients to obtain professional licenses. Thousands of students would then be able to be fully licensed teachers, lawyers, plumbers, social workers, and more. Jorge was able to tell his story at the Nebraska Legislature, making the case for young Nebraskans like him.
In May 2017 LB 947 passed through the Legislature, overriding the Governor's veto in a show of bi-partisan support from Nebraska state senators. Jorge, now practicing as an audit associate at an accounting firm in Omaha, knows that when he is ready, he will be able to be a fully-fledged CPA in Nebraska, his home.
CAMPAIGN CODE NUMBERS:
Campaign Code: 6255
(For campaigns at University of Nebraska-Lincoln, City of Lincoln, LES, LPS, Lancaster County, SCC and private companies.)
Combined Federal Campaign: 89732
State of Nebraska: 708AN
ADDRESS/PHONE:
941 O Street, Suite 920
Lincoln, NE 68508
402-438-8853
WEBSITE:
CONNECT WITH AGENCY: