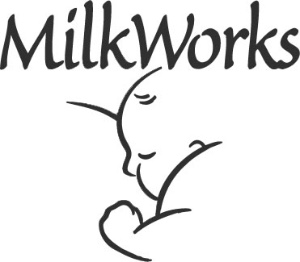 25-WORD DESCRIPTION:
MilkWorks is Nebraska's only comprehensive community breastfeeding center with Lincoln/Omaha locations. We are committed to creating a healthier community by helping mothers breastfeed their babies.
HOW WE USE YOUR CONTRIBUTIONS:
$10 pays for free a drop in weight check, available without an appointment in a well-facility.
$100 provides knowledgeable staff to lead twice weekly moms' groups providing crucial peer-to-peer support.
$250 supports an initial and follow-up consultations for low income families.
$500 connects breastfeeding to a healthy community through school presentations and outreach activities.

A STORY FROM OUR AGENCY:
Angela, mother of a toddler and now a newborn, came to MilkWorks to use the free drop in weigh station on a Sunday afternoon after her pediatrician raised concern that her baby, Jonas, was not gaining enough weight. Angela was in tears, unsure of what to do. She was able to see a lactation consultant at MilkWorks the next morning. After her appointment, Angela said, "I feel like my lactation consultant really listened to my concerns and was able to give me some pointers on how to increase Jonas' weight. She was so encouraging and nonjudgmental. Most importantly, she helped me feed my baby in a way that works for our family."
CAMPAIGN CODE NUMBERS:
Campaign Code: 6065
(For campaigns at University of Nebraska-Lincoln, City of Lincoln, LES, LPS, Lancaster County, SCC and private companies.)
State of Nebraska: 708AH
ADDRESS/PHONE:
5930 South 58th Street, 
Suite W 
Lincoln, NE  68516
402-423-6402
WEBSITE:
CONNECT WITH AGENCY: