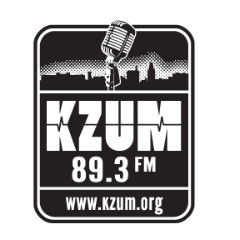 25-WORD DESCRIPTION:
The mission of KZUM is to educate and build community through broadcast media, with diverse and independent voices that enrich the perspectives of our audiences.
HOW WE USE YOUR CONTRIBUTIONS:
$40 an hour keeps the station up and running.

$300,000 is the required amount that the Corporation for Public Broadcasting requires us to raise locally in order to receive. Our CPB grant Our CPB grant is 20% of our annual budget.

A STORY FROM OUR AGENCY:
KZUM 89.3 FM has been Nebraska's independent, community radio station since 1978. For the last 38 years, KZUM has been the source for music, independent news and vital community information that is not aired on commercial radio. Powered by 90 dedicated volunteers and a mighty full-time staff of three employees, we air original programming highlighting subjects ranging from gardening, pet care, arts and community matters. We feature more local music and artists in a week than any other Lincoln radio station does in a year! Through our original programming we support diverse audiences, such as our Native American, Latino and Vietnamese populations, all while reaching the most under-served community members.
A strong community radio station is a sign of a growing and vibrant city, as is the case with Lincoln. KZUM is committed to being the voice of our city. We have a long history of working closely with our local, small businesses and nonprofits. Whether it's airing programs that advocate for nonprofits, running public service announcements for organizations offering vital services or sponsoring cultural community events, supporting our local economy is vital to cultivate our diverse and unique community.
CAMPAIGN CODE NUMBERS:
Campaign Code: 6230
(For campaigns at University of Nebraska-Lincoln, City of Lincoln, LES, LPS, Lancaster County, SCC and private companies.)
State of Nebraska: 708BI
ADDRESS/PHONE:
3534 South 48th Street, 
Suite 6
Lincoln, NE 68506
402-474-5086
WEBSITE:
CONNECT WITH AGENCY: