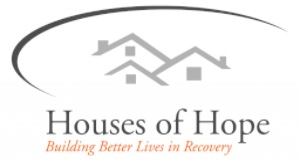 25-WORD DESCRIPTION:
"Building Better Lives in Recovery." Helping individuals, whose lives have been impacted by substance use and mental health, to integrate back into the community.
HOW WE USE YOUR CONTRIBUTIONS:
$8.00 provides 3 well-balanced meals to a consumer.
$48 provides 6 months of bus passes to help individuals without transportation to get to and from work.
$100 provides 1 weeks worth of life skills classes

A STORY FROM OUR AGENCY:
Nathan had a 14 year history of alcohol and, more recently, opiate use. His opiate use started with medications prescribed to treat pain from injuries sustained in a serious car accident.
Nathan was admitted to Houses of Hope's short-term residential treatment program to treat his misuse of alcohol and pain medications. Nathan arrived unemployed, homeless, and desperately seeking help. Due to his use, he had not been able to maintain full-time employment for several years. He had worked part-time and seasonal jobs, which aggravated the injuries from the car accident and stepped up his abuse of pain medications and other opiates. He was in poor physical health. He arrived with no car, no housing and nothing other than the few articles of clothing and some toiletries.
During this primary treatment Nathan worked with staff to address his dependence on pain medications and to help stabilize his physical health. Nathan transferred into Houses of Hope's halfway house program to continue his treatment. He was able to learn about his addiction and develop healthy ways to cope with urges and life stressors. Nathan began to utilize these skills to get back on his feet. He began to take more responsibility for his actions and decisions, and paid closer attention to his emotional and physical health. He appreciated the safe supportive environment offered in the halfway house program.
Nathan began to build a strong foundation of recovery and support and obtained a part-time job conducting phone solicitations within several weeks of admission. This job did not aggravate any of his injuries. He liked the work environment and gained a full-time position, with healthcare benefits, within 3 months. Nathan worked with his physician to manage his use of pain medications and his physical therapist to strengthen his back and increase mobility. Due to these lifestyle changes, Nathan was eventually able to eliminate the use of prescription pain medications and manage any discomfort with over-the-counter medications. He excelled at work and was promoted to a shift supervisor. He was able to save money to help him prepare for a move back into independent living.
Nathan was very committed to living a life of recovery and sobriety. He nurtured relationships with others in recovery that he could rely on after he transitioned to independent living. After 11 months, Nathan had secured an apartment and graduated from the halfway house program and was excited about his future.
CAMPAIGN CODE NUMBERS:
Campaign Code: 6070
(For campaigns at University of Nebraska-Lincoln, City of Lincoln, LES, LPS, Lancaster County, SCC and private companies.)
State of Nebraska: 708V
ADDRESS/PHONE:
1124 North Cotner Blvd
Lincoln, NE  68505
402-435-3165
WEBSITE:
CONNECT WITH AGENCY: