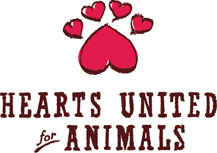 25-WORD DESCRIPTION:
HUA provides quality shelter for pets, refuge for pets of families losing their homes, a low-cost spay/neuter clinic, veterinary care for pets of needy families.
HOW WE USE YOUR CONTRIBUTIONS:
$10 per months will vaccinate 12 dogs or cats in a year and save them for illness and possible death. ($120)
$35 per month will spay or neuter any dog or cat and prevent litters of homeless puppies or kittens. ($420)
$100 per month will provide dental health to a puppy mill dog that is suffering from mouth infection. ($1,200)

A STORY FROM OUR AGENCY:
Early one morning the telephone rang at the Hearts United for Animals shelter office. The caller was a very sad mother. She said that the family's elderly Labrador could no longer use his back legs. He was the family's beloved old dog, and to make the story sadder yet, he was the constant companion of their young daughter who was being treated for leukemia.
The family's funds were exhausted by the cost of the daughter's medical care, and anyway veterinarians could offer nothing for treatment that was advisable considering the dog's age. The HUA representative asked if the mother thought they could handle a doggie wheelchair for the animal. She said she thought so and took measurements of the animal for a custom cart to be made.
HUA ordered the canine cart from a website where other carts have been purchased and had the cart delivered to the family residence. All went well for the elderly gentleman dog, and he could continue to be a comfort to his beloved little girl.
CAMPAIGN CODE NUMBERS:
Campaign Code: 6440
(For campaigns at University of Nebraska-Lincoln, City of Lincoln, LES, LPS, Lancaster County, SCC and private companies.)
Combined Federal Campaign: 10971
State of Nebraska: 708Q
ADDRESS/PHONE:
73420 638th Avenue
P.O. Box 286
Auburn, NE 68305
402-274-3679
WEBSITE:
CONNECT WITH AGENCY: