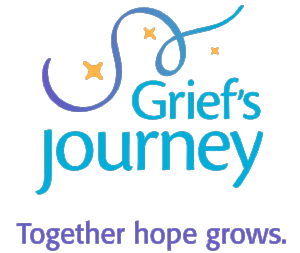 25-WORD DESCRIPTION:
Grief's Journey is a place to find comfort, understanding, and hope. Free invaluable services for children, adults, and families grieving the death of a loved one or serious injury/illness.

HOW WE USE YOUR CONTRIBUTIONS:
$0 cost to grieving individuals and families for access to Grief's Journey
$500 pays for one teen to attend our overnight retreat, Camp Hope.
$1000 pays for a family of 4 to attend 8-session support groups.

A STORY FROM OUR AGENCY:
"We started our voyage with Grief's Journey September 2015 by attending weekly support classes and Tinsel & Tears after K lost his father and brother, unexpectedly, four days before Christmas 2014. It was and still is very emotional to know that loved ones can be gone at a blink of an eye. By attending classes, every week is a new adventure for the both of us to help cope with our feelings but most importantly, we are surrounded with positive energy from families going through the same experiences. The gatherings, conversations, comfort food as well as the activities that are shared with the children are memorable and held close to their hearts. It's just awesome to know Grief's Journey is available to help us!"
CAMPAIGN CODE NUMBERS:
Campaign Code: 6854
(For campaigns at University of Nebraska-Lincoln, City of Lincoln, LES, LPS, Lancaster County, SCC and private companies.)
State of Nebraska: 708S
ADDRESS/PHONE:
7811 Farnam Drive
Omaha, NE 68114

402-502-2773
WEBSITE:
CONNECT WITH AGENCY: