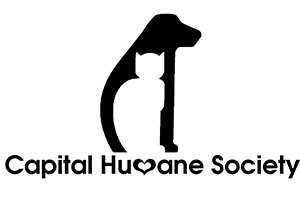 25-WORD DESCRIPTION:
Capital Humane Society serves the community by sheltering unwanted pets, is an advocate for animal welfare and strives to educate about responsible pet care.
HOW WE USE YOUR CONTRIBUTIONS:
$10 vaccinates 3 adult dogs.
$50 tests 5 dogs for the Parvo Virus.
$100 microchips 10 adoption animals.
$500 tests 100 dogs for Heartworm.

A STORY FROM OUR AGENCY:
In mid-January, Thor, a shy Great Pyrenees was brought to us by Animal Control. He had been an outside only dog and when put in a kennel he would cower in the back and hide, as people would walk past. During his first month and half, our Animal Behaviorist worked with him. At first, when he was leashed up, he was very hesitant to walk. Another time, when he was outside and off the leash, he tried to climb a brick wall to get away! After time and many dedicated hours of working with him, he was put up for adoption. Thor was a CHS favorite with the staff and volunteers.
Over the course of his journey here at the Capital Humane Society a handful of people came to look at him. Finally, in April, Thor went to his forever home. The dog who had been afraid of his kennel, his toy, cats and his leash went to a home with a Golden Retriever named Sam. They are best friends now. It's because of the support of people like you that we at the Capital Humane Society are able to put so much love and attention into an oversized teddy bear. It's because of your donations of time, love and money that Thor has a home.
CAMPAIGN CODE NUMBERS:
Campaign Code: 6270
(For campaigns at University of Nebraska-Lincoln, City of Lincoln, LES, LPS, Lancaster County, SCC and private companies.)
Combined Federal Campaign: 96546
State of Nebraska: 708I
ADDRESS/PHONE:
2320 Park Boulevard
Lincoln, NE 68502
402-441-4488
WEBSITE:
CONNECT WITH AGENCY: